Did you know that you can grow up to 3 inches from a height lengthening procedure? Learn about the procedure, the recovery process, and the benefits from Dr. Shahab Mahboubian in this free 1-hour webinar.
---

Sick of feeling short? One solution to Height Dysphoria is height lengthening surgery. Learn about height lengthening surgery, including how the procedure works, the fracture healing process, and more.
---

Learn how Stem Cell Injections can treat injuries
Have you heard about Stem Cell Injections? In this eBook you will learn about the uses, benefits, and the process of harvesting Stem Cells, as well as who should consider this treatment and the recovery process.
---
- IN THE PRESS -
Voyage LA magazine MeetS
Dr. Mahboubian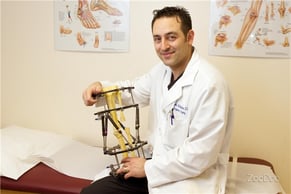 Working on the human body and helping those with musculoskeletal injuries was always a passion of mine at a very young age. Learning about making people taller and correcting their deformities came toward the end of my orthopedic residency and I found it fascinating.
I was determined that this specialty would truly fulfill my desire to help those in need. In the past few years, I have been able to not only make people taller or walk normally, but I have raised my patients' confidence and helped them achieve their long-life goals. Read more about Dr. Mahboubian...